Create a Tattoo Awards Account
By now, you should have already created an account with your Facebook or Google Sign in. If done, you are ready to begin onboarding process. After you have signed up for your tattoo awards account with your Facebook or Google account, you will be shown 3 screens to add to your profile and preferences.
Step 1 - Which user type describes you best?
Select the user type which describes your relationship to the tattoo Industry. This screen is pretty much binary meaning you are a Tattoo Artist, or you're not. If you are not a tattoo artist, please select Tattoo Enthusiast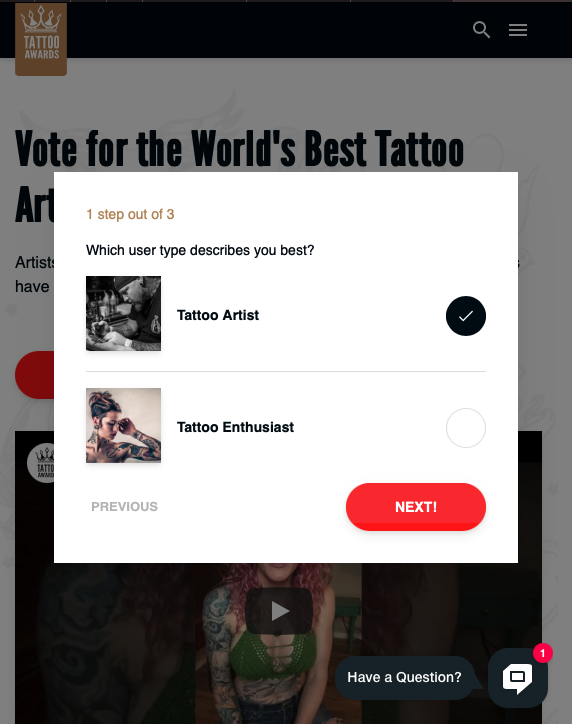 Why this matters? Tattoo artists have advanced features for displaying their public profile, attaining status on the leaderboard, competing in certain types of tattoo competitions, and accepting client booking requests.
ONLY SELECT TATTOO ARTIST IF YOU ARE AN ACTUAL TATTOO ARTIST!
Step 2 - Update Profile information
The next step will ask you 3 simple questions to complete your profile: "Where are you from?", "What is your name?", "What is your Email?".
Where are you from?
Depending you privacy settings, the system may prompt you to share your location automatically. This information is added to your profile so we can display recommended tattoo artists closest to you.

- For Tattoo Artists, adding your helps increase the visibility of your profile to the Tattoo Awards community, increasing your votes and booking requests.

- For Enthusiasts, adding your location will help you find the best tattoo artists in your area.
What's your Email?
Please provide the best email you would like to receive notifications regarding your activity on tattoo awards. We will NOT spam you, and only provide you with updates regarding your competition entries and booking requests. You may manage your profile at any time in My Account > Notifications.
NOTE: If an email already exists, you will receive a notification "This email is already in use". This means you already have an account with this email. You can add another email and finish the registration. If you would like to have your accounts merged, please send us a message --
[email protected]
Step 3 - Select your favorite Tattoo Styles.
In the Final step, We ask you to select your favorite tattoo styles. Choosing accurate tattoo styles
For Tattoo Artists, the will be the styles which best describe your works. If you are a Tattoo Artist who primarily specializes in Black & Grey Realism, you would better select the styles "Black & Grey", "Realism". There is no limit to how many styles you can choose. The selected styles will display on your Artist profile and display for users search results.
For Enthusiasts your selected styles will better tailor the results of Tattoo Awards. Our algorithms will show you more results based on your style preferences.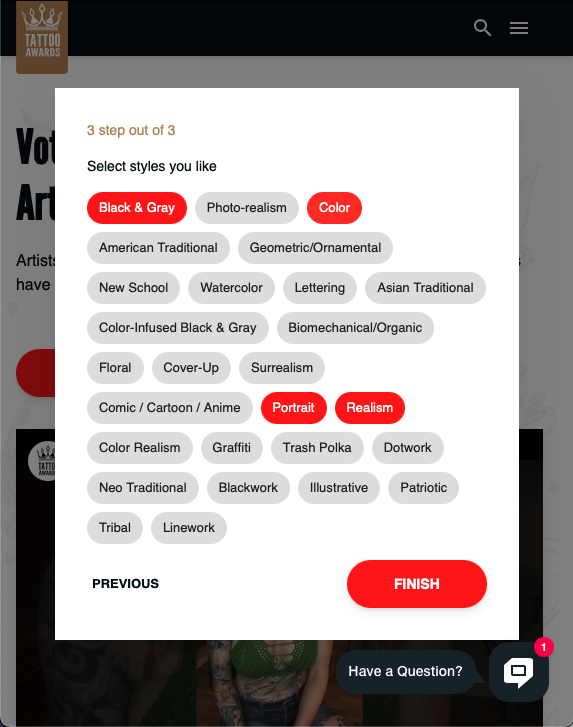 What's Next?
Congratulations! You have finished the basics of setting up your Tattoo Awards profile. Here are some suggested next Steps
Enter Tattoo Competitions - Show off your work in one of our many active Tattoo Competitions. Your entry could win you Cash, Prizes, and Travel. Entering Tattoo competitions is a great way to display your talent to attract more booking requests. Learn More
Vote for Tattoos - The community appreciates your commitment to ensuring the best Tattoo Art is winning the top spot on our leaderboards. Vote for your favorite tattoo artists and their works to contribute to the community.
Book a Tattoo - *For Enthusiasts* - Use our powerful search tools and leaderboard to find and filter tattoo artists by whom you would like to get your next tattoo.