Add a Tattoo
All "Logged In" users can enter tattoo competitions. We have 3 types of Tattoo Competitions. Learn more about competition types.
To Get Started click on the "Add a Tattoo" link from any page. You can find this link in the Menu.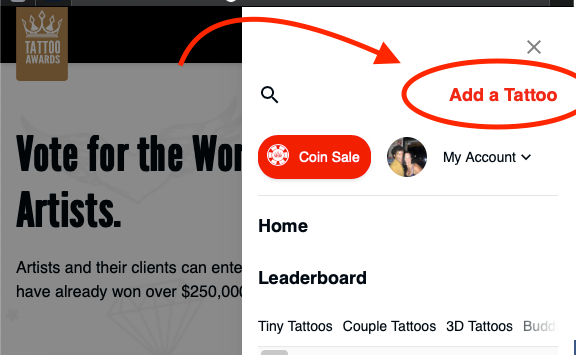 Add your tattoo Image
Upload a tattoo from your device, or choose an existing tattoo from your gallery.
Add details about your Tattoo
Be sure to fill in information about your tattoo such as Style, Placement, Hashtags, and Description.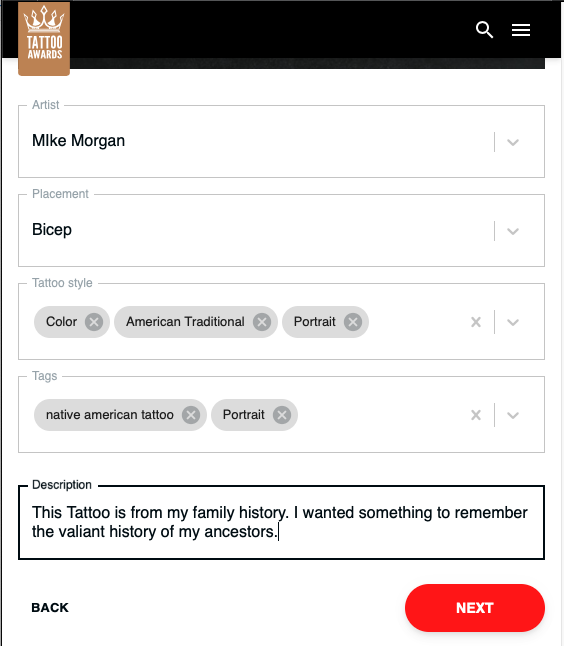 The more information you add, the more noticed your work will be seen by the Tattoo Awards Community.
If you are a Tattoo Enthusiast adding a Tattoo for an Artist, you will also need to select the tattoo artist. If there are no results found click "Create a new Artist"
Select Tattoo Competitions
The Final step is to select Tattoo Competitions. Each Calendar month, all users receive 1 free competition entry. Learn More about Coins.
Select the Tattoo Competitions you would like to enter your Tattoo. and click "Submit"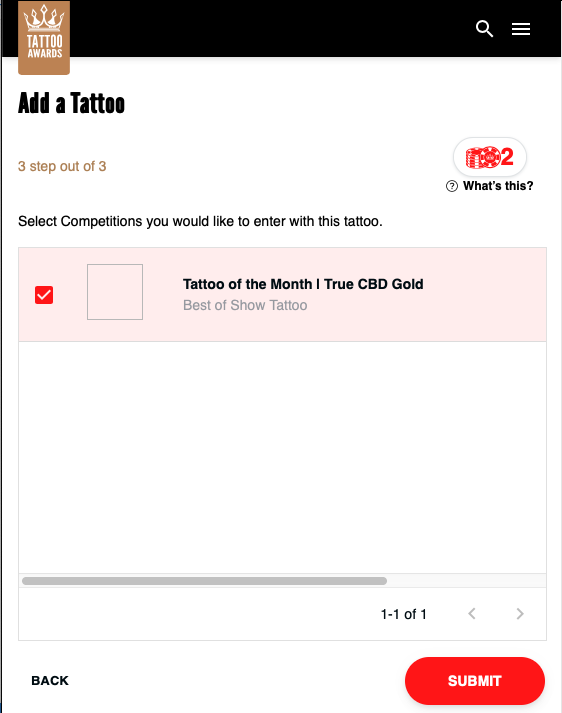 Depending on your User type (Tattoo Artist or Enthusiast) you may only see competitions that are available for you to enter. Be sure to check if the competitions are People's Choice, Judge's Choice, or Collectors Competitions. Only Tattoo Artists may enter People's Choice and Judges Choice Competitions.
What's Next?
Depending on your Competition type, you will need to promote your entries in order to receive votes. Please take a brief look at the next steps. You may also learn more about our competition types in this article.
People's Choice Competitions / Collectors Competitions
If you have entered your Tattoo into a People's Choice Competition. You will need to share your post to your followers and fans on social media. Create Posts, Stories on Facebook and include the URL to your Entry. Read more.
Judge's Choice Competitions
When all the votes are received. Our panel of industry experts will adjudicate the Judge's competition and provide ratings to each tattoo. Winners are notified according to the "Winner's Announced Date" on the competition details.